Tourism in Sylhet: Problems and Possibilities
When did tourism start in Sylhet region?
Before looking for the answer to this question, some seemingly different things can be thought of.
Hazrat Shahjalal (RA) along with his followers came to Sylhet in 1303 AD with the army of Shamsuddin Firoz Shah. This was followed by the arrival of Turks, Arabs and Persians in the region. In 1345, the world famous tourist Ibn Battuta came to Sylhet to meet Hazrat Shahjalal. Greater Sylhet was later occupied by the Mughals and Mughal culture also developed here.
Thus the local culture merged with the Turkish, Arab, Persian and Mughal cultures in Sylhet. The shrine of Hazrat Shahjalal (RA) and his chief companion Shahparan (RA) became the main attraction of the pilgrims. People from outside Sylhet have been visiting Sylhet for the last few hundred years. Now we know that it is also recognized as a specialized branch of tourism – 'Religious Tourism'.
In the century following the arrival of Hazrat Shahjalal in Sylhet, a child was born in Nadia district of West Bengal – who later came to be known as Sri Chaitanya Mahaprabhu and introduced Vaishnavism in the traditional religion. Shri Chaitanya's father Jagannath Mishra is a man from Dhaka South near Sylhet city. Later it became the fatherland of Sri Chaitanya and a place of pilgrimage for the followers of traditional religions.
Multinational culture has developed in Sylhet through the hands of Hazrat Shahjalal (RA) and his companions, while another culture has developed in India through the hands of Sri Chaitanya, the son of Sylhet. At the same time, it can be mentioned that the people of Sylhet have spread in Europe since the British rule. In this way, just as Sylhet has embraced the outdoors, Sylhet has spread all over the world.
This exchange of culture, education and way of life is also one of the many facets of tourism.
Basically, informal tourism has been going on in Sylhet region for many years around the shrines of Hazrat Shahjalal (RA) and Hazrat Shahparan (RA). Along with this, Jaflong and Madhabkunda, the natural beauties of Sylhet, have been the favorite destinations of the people visiting Sylhet since the sixties. Surrounded by the green beauty of the Malnicherra Tea Estate and Srimangal has been a significant destination for many years.
As the communication system has improved, new possibilities have been created in the tourism sector of Sylhet. Every day thousands of tourists are coming to Sylhet from remote areas of the country including Dhaka by road and rail. If you want to come to Sylhet by train from Dhaka, you will find all the necessary information, here: Dhaka to Sylhet Train Schedule 2021. And if you want to come by bus, there are many good quality buses on the Dhaka to Sylhet route. See details of Dhaka to Sylhet bus here: Dhaka to Sylhet Bus, Ticket Price & Contacts.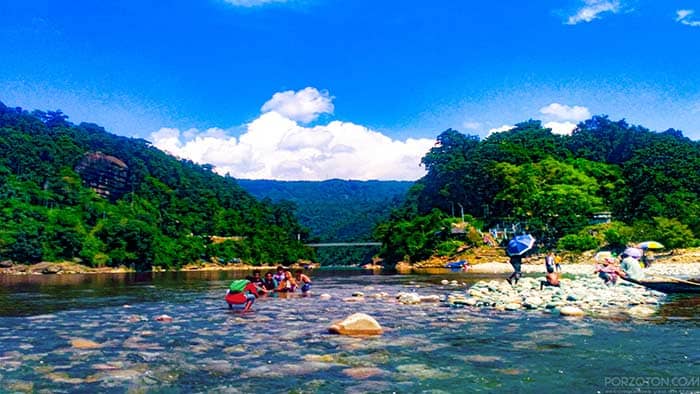 Not only in Sylhet, but in the whole of Bangladesh, the beginning of official tourism is not a long time ago. In Europe as well as in neighboring India, there is a culture of visiting places with family members on Pujo holidays. The practice of going home to the village with the children during the Eid holidays or when the school is closed, we had a tendency to go here and 'somewhere else'. This situation began to change in 2010.
This, of course, has to do with increasing the middle class's income range and social networking. University students, some of the young employees are running on weekends, some at the end of the month – leaving behind the hustle and bustle of the city and the proximity to nature. Apart from Eid and Pujo, the family is going to Cox's Bazar Sea Beach, Chittagong Hill Tracts and Sylhet on any holiday.
Greater Sylhet already has all the potential for tourism development with its natural beauty, diversity, history and cultural richness.
Habiganj and Moulvibazar districts bordering India's Tripura in the southeast, Sylhet district across the eastern Khasia Hills border of Meghalaya in the northeast and Sunamganj district in the northwest to the beginning of West Khasia Hills and Garo Hills. Along this long border there are hills, springs, hilly rivers, footpaths and all sorts of outstanding natural destinations – Lovachoara, Lalakhal, Jaflong, Bichnakandi, Bholaganj Sada Pathor, Dolura, Jadukata River, Bariker Tila, Tekerghat. Hundreds of tea gardens in Habiganj, Moulvibazar and Sylhet. Greater Sylhet has the second largest protected forest in Bangladesh, Rema Kalenga. Srimangal's Lauyachhara Rainforest is a favorite destination of nature-friendly tourists. Tanguar haor, Sunamganj and Habiganj have huge haor areas.
Just as the majority Bengali population of greater Sylhet has its own cultural characteristics, other communities like Khasia, Manipuri, Garo, Hajong, Tripura have added variety to the tourism potential of Sylhet with their own uniqueness. This includes food, clothing, jewelry, lifestyle, everything.
The initial potential of tourism in Bangladesh since 2010 is all about domestic tourists. Due to various reasons, foreign tourists have not gathered here, there is no possibility of it in the near future. But the surprising thing is that if you think of domestic tourists without relying on foreign tourists, you can see a huge market here. 1 percent of our 60 million people and if they travel within the country once a year – that number is huge. Besides, he did a lot of foreign work in international and non-governmental organizations in the capital Dhaka. They also like to spend their holidays inside the country without going out on normal holidays.
In the last six years, some significant things have happened in the tourism sector of Sylhet.

Srimangal, Madhabkunda, Jaflong – all three have been travel destinations for many years. Many more new destinations have become tourist favorites in the last six years. Lots of blue water on the banks of the river Lalakhal, Ratargul Swamp Forest, the village of the huge Panthumai waterfall, Megh Pahar Bichnakandi, Bholaganj through the memory of the liberation war Banshtala, Dolura, another magical river Barikatila on the banks of Jadukata going to Tekerghat. At Tekerghat, it has become popular to visit 'Shaheed Siraj Lake' and Tanguar Haor, which are associated with the memory of Shaheed Sirajul Islam.
There has been a lot of investment in the hotel-resort sector in Sylhet at this time due to the tourism potential. Nazimgarh Resort, the first luxury resort in Bangladesh – launched their first resort in 2000 in Khadim Nagar, Sylhet, the second resort was built in 2013 in Lalakhale. During this period, Grand Sultan Resort was established in Srimangal, Dusai in Moulvibazar and Luxury Resort-Palace in Bahubale of Habiganj. Shukatara Nature Resort near Sylhet city is also notable. Crores to hundreds of crores of rupees have been invested in these resorts. Besides, hotel business in Sylhet, Srimangal and Moulvibazar has come to life for the welfare of tourists. Even in the town of Sunamganj, a guest house has sprung up in the Kalenga forest. Numerous people have found employment opportunities in this sector during these years.
The benefits of employment have been created at a marginal level. An example might be Ratargul village. Until 2011, fishing was the only occupation of the people of this village. They have been involved in tourist services since 2012 and the people of this village now have 40 boats. Hundreds of boats have been involved in tourist services in Bichnakandi.
The rental car business in Sylhet and Srimangal is now almost entirely tourist dependent. In this way, tourism is playing a direct role from the investor of a resort worth hundreds of crores of rupees to the livelihood of a boatman in Ratargul.
Tourism is not a single issue, it is an integrated and holistic management approach. Many types of stakeholders are directly and indirectly involved in this process and each of them is important. Tourists who are renting a room at an international standard resort for tens of thousands of rupees have to come back again.
Now what is happening all over Bangladesh and Sylhet is a very early step in overall tourism. At this stage, new tourist destinations are being created, tourist destinations are being developed, work is being done to create development infrastructure and public-private investment is being made. Once this step is taken, our tourism cycle will enter another step – not just a natural destination, not just a tour – human life journey, history, tradition, literature-culture, religious affiliations will continue to be added. Tourists will continue to become more and more, new things will continue to interest them. The tourism system basically works this way around an infinite potential.
For example, in the Indian states of Meghalaya and Assam, there are many ethnic Bengalis whose ancestors lived in Sylhet. They have an innate passion for Sylhet. The road distance from Shillong, the capital of Meghalaya, to Sylhet is only three hours. If Sylhet can be promoted there and proper responsibility can be taken then they can be taken to visit Sylhet, shown in their ancestral home and they have great interest in Sylhet as well as Cox's Bazar as people from North East India have to go to sea sightings at least as far as West Bengal. We think that the Porzoton Corporation should pay attention to this.
Another example can be considered in this case. The government has declared 2016 as the 'Tourism Year' with the target of attracting a large number of foreign tourists. In November 2015, we had the opportunity to have an exclusive interview with the Hon'ble Minister of Aviation and Tourism. There were important people including the chief executive of the tourism corporation and the secretary of the ministry. We offered to go to England with a show case in Sylhet ahead of the tourism year. We have 5 lakh people there, these third generation Sylhet Bengalis are very well established financially but their contact with the country is declining. They are going to spend their holidays in different countries of Africa including Morocco, they are not coming to the country. The government will invite them as guests throughout the year. Biman will give tickets at special discounts for them. They will stay for two weeks at various international quality resorts in Sylhet, from where they will be taken out of their respective village homes under government supervision. After visiting Cox's Bazar and Dhaka from Sylhet, they will return to England with a wonderful experience and the feeling of being a guest of the country. We felt that this was a unique opportunity for third generation British Bangladeshis to rebrand the country.
Sadly the proposal did not work. The government was busy promoting Buddhist heritage and attracting tourists from China and Japan. Exactly how many foreign tourists came during the tourist year is not known.
The second example might be to realize the crises in the way of exploiting our infinite potential around tourism.
It is important to remember that tourism is an overall issue. There is a need for coordination between the public and private sectors. Some of the initiatives will come from the private sector – such as the construction of international standard hotel resorts in Sylhet in the last few years, river cruising on the Surma River in Sylhet, adventure parks, theme parks – there are many aspects of private sector investment. But there are other urgent aspects that the private sector does not have to do, government agencies have to do these things to become tourism friendly.
The construction and maintenance of roads cannot be done by the private sector, it is the responsibility of the government. Every tourist destination in Sylhet has to travel 20 to 50 km outside the city. The condition of the roads on each side is extremely bad, getting worse and worse every year. The development and growth of tourism has been talked about for half a century, a lot of ambition can be heard from the government level, but the reality is that the condition of the roads in Sylhet is unbearably bad.
Tourists suffer because of the plight of the roads – not only that, it is important to remember that there is a good investment in the rent-a-car business around tourism. Driving on terribly bad roads increases their maintenance costs a lot. If there were good roads, maybe they could serve tourists at a lower cost.
Tourism in Sylhet is completely nature and environment oriented. Tourists are coming here to get close to nature. The question of conservation of environment and nature is therefore fundamentally involved in the sustainability and development of tourism. Jaflong, a popular tourist destination for a long time, has been decimated by anti-environmental activities. Every year Jaflong is turned into hell by using bomb machines in the lure of stones. The Ministry of Environment, Forest and Climate Change could not stop these environmentally destructive activities even after having a clear direction from the Supreme Court.
Extremely beautiful rows of blue waters along the river have excellent potential for tourism. The river is also damaged by the greed of sand and coal powder floating from India. Here too there are court bans but no effectiveness. The situation is similar in Bichnakandi, Bholaganj, Dolura and Jadukata rivers. Mountain river-centric tourism potential Here, the rivers are being killed while the government is not succeeding in stopping the river killing.
Sylhet city has nice sidewalks inside, the sidewalks are occupied by traveling hawkers. There are tensions between the city corporation, the district administration, the police and the political forces – but the result is that a tourist cannot visit Sylhet on foot.
No museum has yet been set up inside the city centered on the history and heritage of Sylhet, where a curious tourist can get to know Sylhet in a short time. These are the first steps towards the development of tourism.
Although a unit of the 'tourist police' is working for the safety of the tourists, it is more than enough. Tourist destinations need to have police safety and risk information guidelines throughout the year. Due to this lack of monitoring, tourists are killed every year in Jaflong, Bichnakandi and Madhabkunda.
Although a significant number of hotels / resorts have been developed, we have not yet developed a training center to build a professional workforce to ensure proper service. Creating a trained guide is also important.
The most important thing is that those who are responsible for tourism at various levels of government need to understand its vast range and diversity. In the presence of the Hon'ble Minister of Tourism, there was an opportunity to hear a proposal of the Sylhet Divisional Administration regarding tourism. They want to set up 'modern tourist centers' in each of the 19 tourist destinations in greater Sylhet. Rather than setting up a 'modern tourist center' in Rema Kalengar forest or Tanguar haor, it is important to understand that this forest is like a jungle, haor is like a haor with all its biodiversity. Understanding this is not just for the Ministry of Tourism or Tourism Corporation, but for the Ministry of Forests and Environment. The forest department often becomes enthusiastic about tourism.
They had prepared a project proposal of six crore rupees for the development of tourism in Ratargul Swamp Forest. Although the luxury project has not been fully implemented in the face of strong protests from environmentalists and conscious people, they have built a risky tower in the jungle by cutting down trees. Thinking about tourism is not the job of the forest department, their responsibility is forest conservation. It is their responsibility to answer the question as to why the Ratargul Swamp Forest has come down from about three thousand acres to three hundred acres now.
Not too far away to learn how nature-centric tourism can be developed – Meghalaya across the border from Sylhet could be a good example. At one time Meghalaya had a very low rate of tourist arrivals from other states of India. The law and order situation was not good. In these few years they have improved the law and order situation, built good roads from the main city to the villages through the mountain forests, the local people in charge of managing the tourist centers – they are keeping everything clean.
Snowenpedeng village to the north of Dauki seeds and our Jaflong on this side, Maulinong on the other side is the cleanest village in Asia and our Bichnakandi on this side. The difference is very clear. The authorities have to come up with the feeling that the environment is ruined if tiles are made on the way to Madhabkunda waterfall.
Considering all these, a detailed plan for the development of sustainable tourism is essential for Sylhet. There is no substitute for the government to take concerted action with the private stakeholders and all those who are working, thinking and studying in this sector.